Website Management, SEO & More
Meathead Movers, a well-known powerhouse of student athletes in the moving industry came to Brandastic in search of a full-service marketing agency that would not just "maintain" their brand, but boldly take their brand to the next level. If there's one thing we know and love, it's igniting a brand's potential. And we're not afraid of a challenge. So, Brandastic dove right in with a detailed discovery of Meathead's website and paid media channels that exposed multiple opportunities for improvement.
Project Highlights
Marketing & Design
Pay Per Click
Marketing & Design
Site Care
Marketing & SEO
Search Engine Optimization
Development & Design
Print Collateral & Design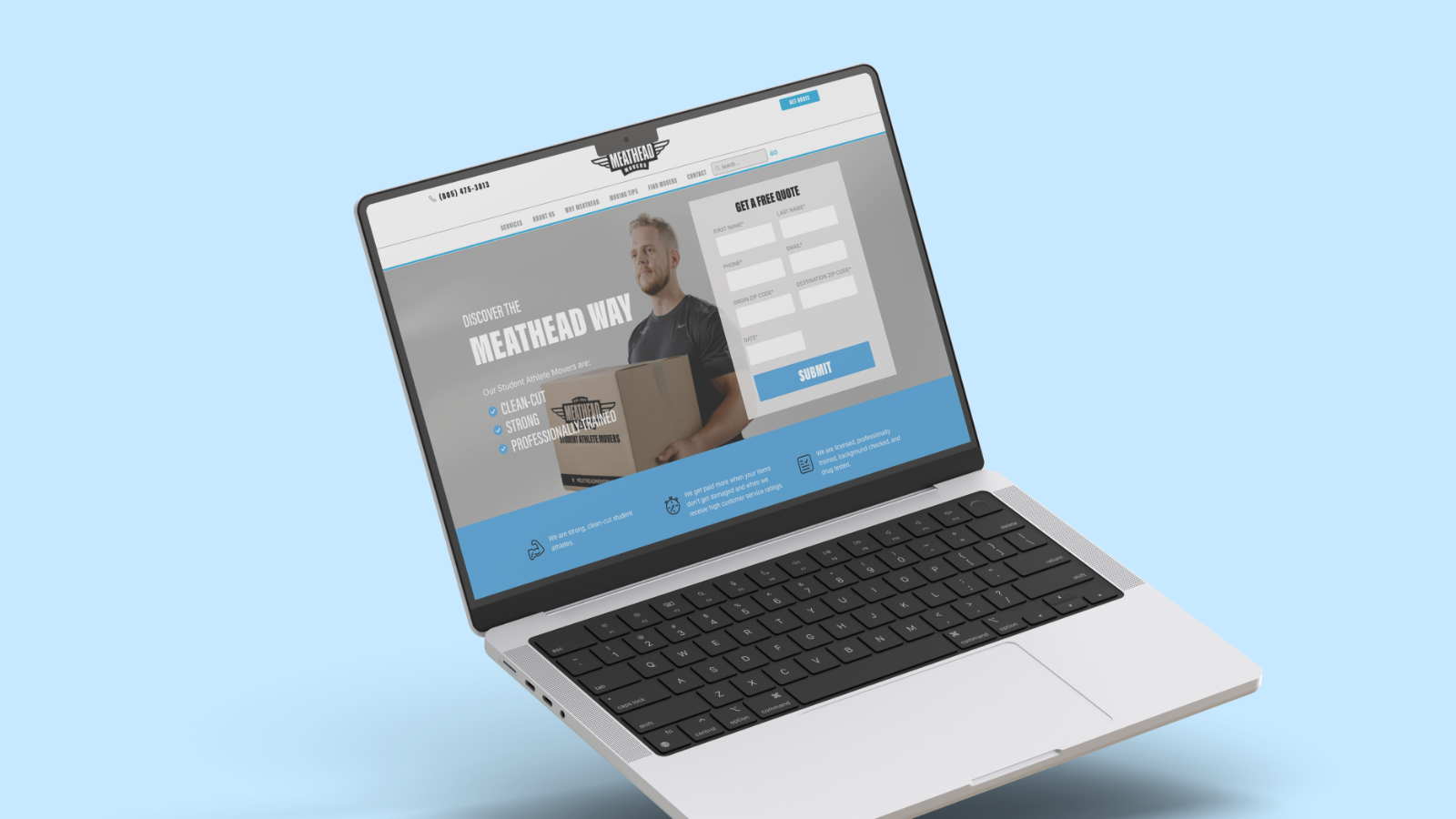 Paid Media & Meathead's Online Presence
Trusting our expertise and bold new plans, Meathead Movers partnered with Brandastic to take on their robust paid media accounts, boost their online presence through innovative approaches to search engine optimization and maintain their website to ensure it is always kept in tip top condition.
At A Glance
Search Engine Optimization
28%
Increase in Organic Users to Website
81%
Increase in Total Keyword Rankings
65%
Increase in Total Keyword Rankings on Page One
Heat Mapping
Given that the majority of traffic is coming through the mover location pages, we created heatmaps on their top trafficked mover location pages to see how users were interacting and engaging with the content. We found that not only were most users not clicking on the quote form on these pages, but they also weren't scrolling very far down the page. In fact, almost 50% of the users weren't even scrolling halfway down the page – where the quote request form is located. From there, we determined that the next step to take is to launch an A/B test through Google Optimize to try and drive more users through the quote process.
Site Care
Site Care allows you to maintain and add features to your website with ease. When a previous weather widget API was deprecated, we researched alternative solutions. The result; a branded weather widget for their location-based landing pages, with a custom design, and real time data pulling from the Open Weather Map API. Sometimes the unpredictable happens, and businesses are required to make immediate pivots to keep up with the rapidly changing environment. Over the course of 2 days, Brandastic stepped in to support Meathead Movers during this critical time. The team wrote, designed and coded custom banners to inform their potential customers of critical updates and information. Brandastic also built a custom survey designed to measure customer satisfaction as they navigate through Meathead Movers' custom quoting tool.
Print Collateral
Meathead Movers takes pride in the team they've built over the years. That's why it was important for Brandastic to write and create collateral that would attract the right talent for their upcoming hiring fairs. For a company and brand that has so much to offer, it can be a challenge to articulate all the amazing reasons to become a Meathead on one single page. Even further, Brandastic knew there was another challenge—first, finding a way to attract readers and second, keep their attention in a distracting hiring fair. Brandastic designed hiring fair collateral that would do just that. Grab attention through visual yet clean designs, and find a way to effectively communicate Meathead Movers' core values, expectations and benefits all on one page.
At A Glance
Pay Per Click Marketing
46%
Increase in Conversions
17%
Decrease in Cost Per Conversion
4%
Increase in Conversion Rate
Attention to Detail
It would only be fitting for Meathead Movers' Paid Media Accounts to be as big as their name. And with a big account, begets big responsibility. While Meathead's paid media purred along prior to our management, it was up to our team to ignite the potential of their paid ads campaigns. Over the course of one month, Brandastic increased their conversions by 46% and decreased their cost per conversions by 17%. How? Through daily and careful attention to their account, removal of wasteful spend and recognizing untapped opportunities to optimize their account to its fullest potential.